The Remi Bader x Revolve Holiday Collection Is Here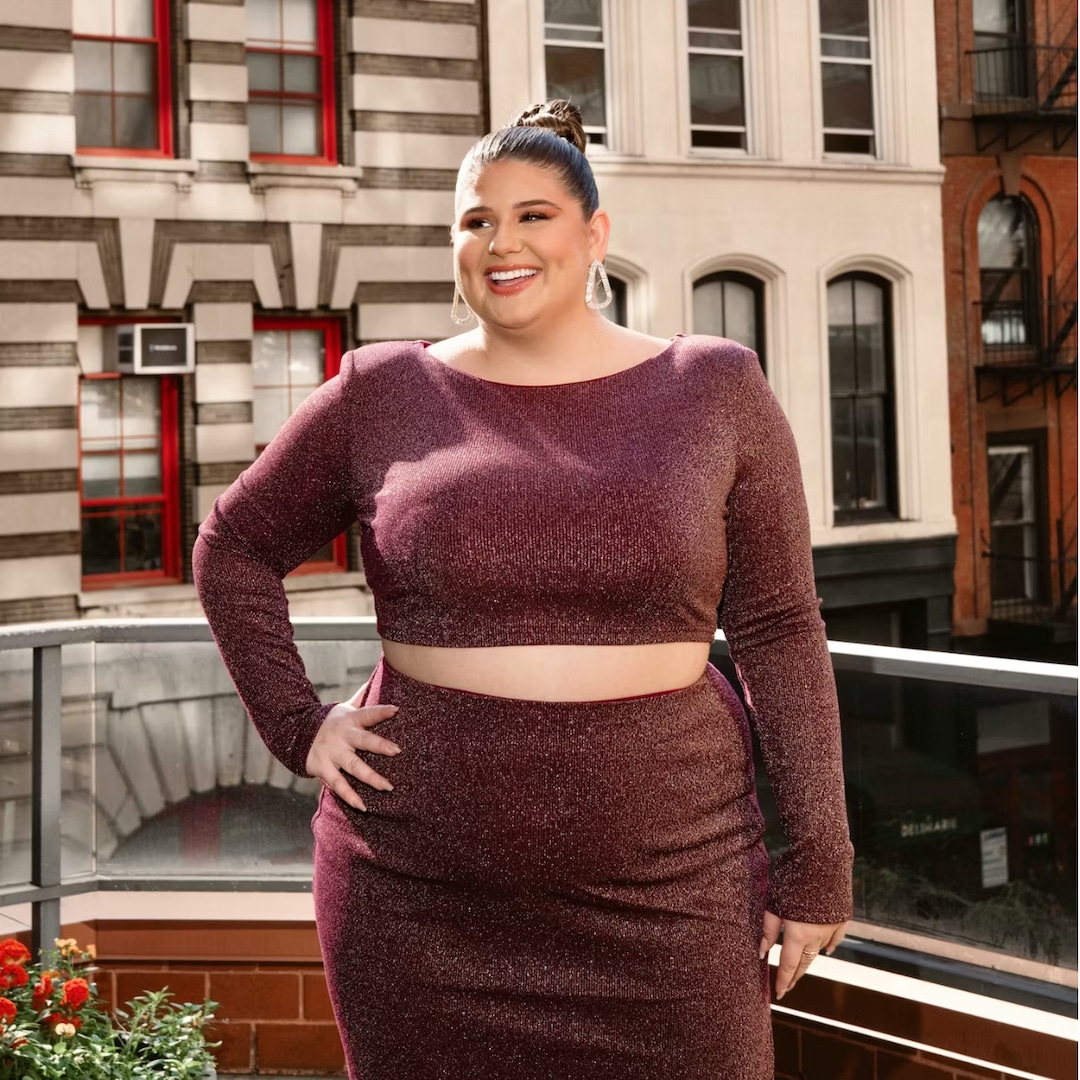 E!: Tell me about your new collection, what was your inspiration behind it?
RB: Yes, so same inspiration as the last collection. But it looks a little different where I feel like I've always struggled wearing clothes. No, I feel like I've always struggled finding clothes as a plus size woman. I want to wear what everyone else is wearing, no matter what their sizes, just because I gained a few pounds doesn't mean I still don't want to wear a crop top and a tight, sexy dress. I still want to wear those things. So I felt like for a long time it was so difficult for me to find those things, and why is it so hard to find that in a larger size? So this collection is bringing all that to life and making it so that I don't have to hunt those things down anymore, like casual matching sets to sexy dresses and fun coats. The difference of this collection is, it is holiday, whereas the last collection was more summer/fall, and the collection runs from XXS to 4X.
E!: What's something you learned from the launch of your first collection, that made you decide to do differently with this one?
RB: Just because there might be some things that I wear, and I like, that doesn't mean that everyone else is going to feel the same way. So I was able to get a lot of feedback for this collection and take into consideration what other people want to wear. While I might like tighter clothes and crop tops, which I still kept in this collection, there are also a lot of other options from looser items to longer shirts and looser pant sets so that everyone can have a little bit of everything.
E!: Was there any criticism or suggestions from your fanbase that really resonated with you and made you want to implement it with this one?
RB: Yeah, I mean, there were so many. And I wrote down all of the feedback and constructive criticism that I got and brought that to Revolve when making this next collection. I think the main one is what I said of just realizing, especially if you're plus size, not plus size, like a lot of people don't want to wear skintight things. That makes me feel more confident, but a lot of people just don't feel that way, and that's okay. So I wanted to make different silhouettes that would make everyone feel good. So we have some casual items. The last collection was more going out, and I think that also was a comment that people made, they want more casual items. I think there was one casual sweater in that last collection, and people were like, we want more of this. So this collection, I would say, is half and half dresses and clothes that you could wear to your holiday parties. But then there are also casual outfits that you could just wear running errands, but still look cute and be comfortable. So, there's a little bit of everything.
E!: This collection ranges from XXS to 4X, and you've said in the past you're not done fighting for those who are still being left out, is there any potential in expanding your size range?
RB: Yeah, definitely. This is just what we decided, for now, based on the sales of what did well past. Since we added the 4X a little bit later on, based on what people wanted in the last one, I really want to push the 3 and 4X and show that it's available in this collection. Because it really takes a lot to win over a new customer and Revolve didn't always have that plus size customer. So, I'm excited because I'm going to be showing it on a lot of different bodies over the next few weeks. So people can really see like, if you're a larger person, you can also wear this collection. And I think if those sizes sell and do well for this collection, then the hope is to expand in the future.
E!: With your first collection marking the first time Revolve expanded past size XL, how does it make you feel this time to have the opportunity to come back and do it all again?
RB: It feels even better and more exciting, because it shows that I did that well, and I think that that's what we need. We need the information to show these brands that these larger sizes can sell too, and that plus size people also want to wear these sexy and cute clothes.
E!: What was the most challenging part about designing the collection?
RB: I wanted to make sure everything was more in line with each other. There was also feedback from the last collection that I wanted so many different pieces, and maybe it just didn't feel as cohesive, because I wanted like a sexy long evening gown, and I also wanted like a comfy sweater, and maybe to some people that doesn't fit together. I think that this collection is definitely more cohesive with a lot of dark colors for the holiday season, sparkles, and sequins, metallics. It's definitely that holiday feel that I feel like people will love.
E!: For people who are part of the plus size community, I'd say we're all very much familiar with criticism whether it's coming from family or online trolls. How do you protect yourself mentally, while also continuing to advocate for those in the community?
RB: I'm always going to have trolls. I'm always going to have criticism. But I just think the more I focus on myself, and the more I focus on me, my journey, my life, my health, all of that. I just stop caring what other people who don't know me are saying. I think you have to put your mental health first before anything, and I always love to put content out there for everyone else. But I'm putting myself first, and I think the more that I do that, the better I feel and the less I'm focused on the negative.
E!: I think for those who are part of the plus-size community, we're all very excited to finally have a collection our entire girl gang can wear, whether we're a M/L, or a 2X or more.
RB: Yeah, It's actually an exciting collection. I obviously was excited about the last one, but I'm just excited to wear these pieces. It's been difficult for me to find things I feel comfortable in as I've gained some weight for the winter. And as there's a new season, you've got to buy all new clothes, so I'm excited to have clothes, like you said, that can fit my sister, who's a size small, but I can wear the exact same thing as a size 1X-2X.
Shop our top picks from the Remi Bader x Revolve holiday collection below.